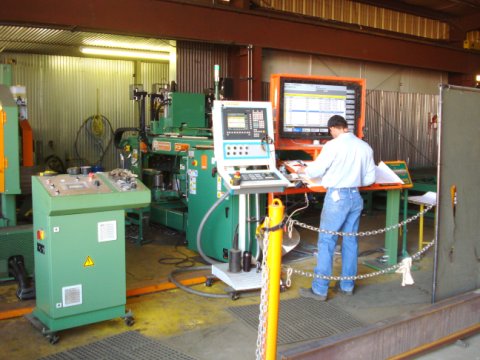 Traditional Values, State of the Art Technology & Service
Redd Iron Inc. has been in business in the Denver metro area since April 1st, 1998. We specialize in structural steel, stairs, and rail fabrication. With over 15,600 square feet of manufacturing space and the latest in CNC fabrication technology and software, the demand for Redd Iron Inc. services has grown over the last several years and we have answered with increased capabilities. In 2008 we installed a new 3 spindle CNC drill line, then in early 2014 added another drill line with options such as; four sided CNC layout, tapping, countersinking, milling and auto tool changing. Combining 3D modeling software and these automated lines the transformation from design to finished product is seamless and accurate. We offer many services to other fabricators such as cambering, drilling, cutting, layout, and full fabricated products. See our technology section for more information.
Mission Statement: Redd Iron Inc. is committed to servicing the structural and miscellaneous steel market in the Denver area and continental U.S. with honesty and responsibility. We intend to achieve this putting as much emphasis on service, quality, and product knowledge as price. Our management staff firmly believe, that not only our products but the "people" behind them make a company's reputation.